Customized Individual Corporate Governance Education:
New corporate directors are  chosen for their  industry expertise or specialized skill.  Effective corporate governance is a skill in itself.  Board members must balance their role as a representative of a broad spectrum of shareholders some with short term and some with long term goals.  Often this involves hard decisions requiring courage. They must collaborate with colleagues, and hold management accountable for results, while bringing their specific experience and knowledge to bear for the good of the corporation.
The Sorrel Group, after consultation with the client, creates a customized education program unique to the clients' back ground and corporate board on which they will  serve.  Education for a military general might focus on how to read a 10-K, while education for an IT executive  might focus of  the role of the compensation committee.  Clients are grounded in all of the best practices highlighted in the Blue Ribbon Commission Reports of National Association of Corporate Directors;  and the publications and reports of Nasdaq, the NYSE and Catalyst.  One-on-one education provides a confidential environment where directors can feel comfortable asking a variety of questions.  New directors enter the boardroom up to date on all the current governance topics discussed in boardrooms today. They are ready to contribute from day one.
Recent Clients Include:
- Recently retired  military general, appointed to a corporate banking board.
- Large division manufacturing president, appointed to the board of a specialty chemical company.
- Second generation family members sitting on the board of a food company.
- President of a division of an industrial products company, appointed for their knowledge of Asia Pacific.
- IT  private venture capitalist, appointed to the board of a REIT.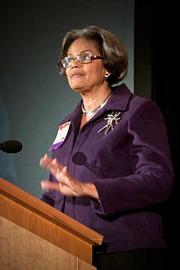 Education through the National Association of Corporate Directors:
Ms. Cholmondeley is a part time faculty member for NACD. NACD is the premier membership association for corporate directors in America.  It is focused on excellence in director education.  She and her colleagues provide  governance education in a series of general education programs offered to any director.  She has been a recent presenter at the Director Professionalism, Advanced Director Professionalism, and Master Class.  She has also presented at the Association's annual meeting, which is the largest annual gathering of corporate directors.  In addition, she is a frequent faculty member for the NACD "In-Boardroom Programs."  This program provides customized education for both boards and committees, as a group.  Through this same  program evaluations for boards, committees and individual directors are  also conducted.
She has taught in a wide range of  industry boardrooms, including:
- Insurance
- Energy
- Chemical
- Skin care
- Retail
- Regulatory bodies
- Medical partnerships
- Commercial vehicular dealerships
- Scientific research companies
- Specialty steel
- Food  manufacturing